Netherlands/Canada is an uncommon pairing involving the characters Netherlands and Canada. It is also called NedCan, NetCan, CanNeth, Maple Tulip, or Tulip Festival (チューリップ祭).
Interactions
Edit
Despite only having interacted once in the manga when the Netherlands brought Canada to a meeting and never in the anime, the countries are known to have one of the closest international relationships in the world, stemming mainly from Canada's role in the Liberation of the Netherlands during World War II. Canadian forces moved through the Netherlands, retaking cities from German forces as they went, while the Canadian air force delivered food into the still-blockaded provinces. Once the last Germans had surrendered, the Canadians moved in and began rapidly distributing much-needed food and supplies. As a "thank you", the Dutch people sent thousands of tulips, the national flower of the Netherlands, to Ottawa every May. The gifting developed into a tradition: the royal family has sent ten thousand tulips to Canada each year since the liberation, which are proudly displayed and celebrated at the Canadian capital's annual Tulip Festival.
Fan Assumption
Edit
Many fics with this pairing involve giving and receiving tulips. Another common topic is shared drug usage. This is most likely due to the liberal policy that the Dutch government takes towards recreational pot, as well as the perception of Canadians as relatively liberal people, and thus apparently more inclined to drug use than others.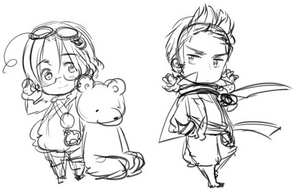 Community content is available under
CC-BY-SA
unless otherwise noted.